5353 Park Forest Parkway N. Charleston, SC 29418
Phone: 843-552-8585
Quality Education with Loving Care
Welcome to Loving and Learning Child Care Center, a privately owned preschool. Your child deserves the best care and education available, we take pride at Loving and Learning Child Care Center knowing that is exactly what we provide.
As our name implies, we recognize that children can only learn if they first feel loved and are safe in their environment. Our exceptional staff of professional caregivers and educators know this and have the talent and desire to help your child become excited, life-long learners.
Every aspect of our facility is designed with the whole child in mind. We offer up-to-date safety measures to help keep your child and our staff safe, as well as maintaining the highest standards of nutrition and cleanliness. Our rooms are well organized and decorated in ways that not only capture the interest and imagination of the child, but also support learning through play, as that is the best way for children to learn.
We would love to have you visit Loving and Learning Child Care Center and see for yourself what we are so proud of!
For Students
World Class Curriculum
Language and Literacy Development
Social and Emotional Development
Physical Wellness and Development
Cognitive Development
Encouraged Creativity
Diversity
Warmth, Welcome and Sense of Belonging
Large playground with designated areas for each age group.

Both sun + shaded
Great for running, soccer, kickball, and organized games.

State recommended nutritious lunch & snacks served daily
Dance express classes available
Amazing Athlete classes available
Soccer shots
Field trips - 4k & older
For Staff
Ongoing, Consistent Education for Teachers and Staff
Expert Trainers and Consultants
Childcare, Health, Safety and Security Training
All staff is CPR and First Aid Certified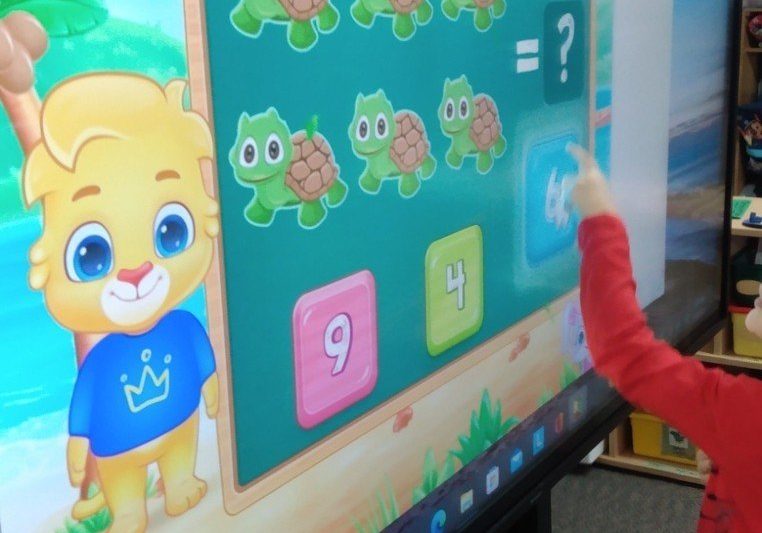 Interactive whiteboard in classroom to integrate various learning styles into one experience. Students can learn by seeing, hearing, and interacting with the board through touch. This equips teachers with new, innovative ways to teach the same subject material.
When public school closes for virtual learning, we do offer virtual learning care right here at the center!

Large classroom for social distancing and space to work.
We will include regular school day activities including recess.
We will have extra school supplies on hand
Lunch and snacks provided
STEM
Qualified teachers supervising and checking school work to ensure the children are completing their assignments.
© Copyright 2023. All Rights Reserved.